Events
Temple Mall Opens 6 pm Thanksgiving Night!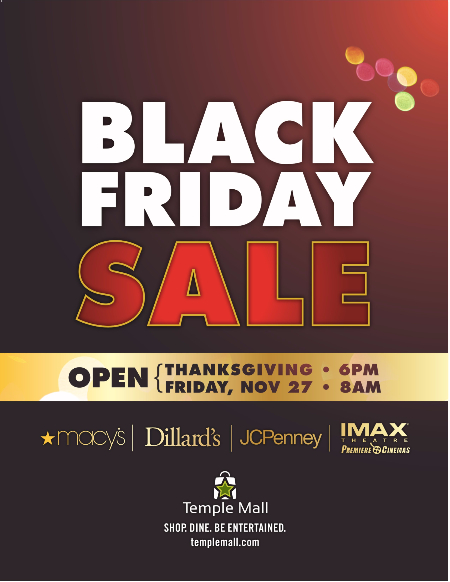 Temple Mall opens at 6 pm Thanksgiving Night!
JC Penney - Open early at 3 pm
Dillard's - Open 8 am Friday, November 27th
All Black Friday Deals Start Thanksgiving Night!
While Supplies Last!
JC Penney's - Select Boots $19.99; Ninja Master Prep Pro $39.99; 3 Piece Comforter Sets $17.99
Macy's - Presto Griddle $9.99; Bella Toaster Over $9.99; Gift With Purchase - Free Glitter Tote with $95 perfume purchase.
Victoria's Secret - Gift With Purchase Spend $75 to receive Black Friday Tote Bag, Spend $150 to receive Black Friday Tote plus additional Pink Blanket.
Toys R Us - Cra-Z-Art 200 piece Art set in wooden case $14.99; Table Top Games $14.99
Peggy's Coffee House - Open Thanksgiving Night! Bring in $50 in same day receipts from Temple Mall stores for a free Large House Blend Coffee!
November 21st through December 24th
| | | | | | | |
| --- | --- | --- | --- | --- | --- | --- |
| 11/23 | 11/24 | 11/25 | 11/26 | 11/27 | 11/28 | 11/29 |
| 11am-7pm | 11am-7pm | 11am-6pm | Closed | 11am-7pm | 11am-7pm | 12pm-6pm |
| | | | | | | |
| --- | --- | --- | --- | --- | --- | --- |
| 11/30 | 12/1 | 12/2 | 12/3 | 12/4 | 12/5 | 12/6 |
| 11am-7pm | 11am-7pm | 11am-8pm | 11am-7pm | 11am-7pm | 11am-7pm | 12pm-6pm |
| | | | | | | |
| --- | --- | --- | --- | --- | --- | --- |
| 12/7 | 12/8 | 12/9 | 12/10 | 12/11 | 12/12 | 12/13 |
| 11am-7pm | 11am-7pm | 11am-8pm | 11am-7pm | 11am-7pm | 11am-7pm | 12pm-6pm |
| | | | | | | |
| --- | --- | --- | --- | --- | --- | --- |
| 12/14 | 12/15 | 12/16 | 12/17 | 12/18 | 12/19 | 12/20 |
| 11am-7pm | 11am-7pm | 11am-8pm | 11am-7pm | 11am-8pm | 10am-10pm | 11am-7pm |
| | | | |
| --- | --- | --- | --- |
| 12/21 | 12/22 | 12/23 | 12/24 |
| 8am-10pm | 8am-10pm | 8am-10pm | 8am-6pm |